Fresh in every sense
Fresh herbs are an attractive high-margin item in the store and a fast-growing trend. The fresh brand 5 Senses covers the full range of herbs. Yearround available in bulk volumes, from our Dutch and worldwide growers. As a specialist in fresh packing, we are always developing inspiring fresh herbs packaging concepts.
Fresh Herbs, the complete product range!
Constant quality
Year round
Dutch & worldwide produce
Dutch & worldwide agencies
Innovative packaging
Want to be updated about the developments from our herbs? Sign in to our newsletter! 
Packing solutions
- kg box
- flowpack (10x100g, 10x75g, 10x50g)
- clamshell (12x20g)
These are our herby heroes
Basilicum | Basilicum Thai | Basilicum Red | Chervil | Chives | Coriander | Dill | Flat parsley | Lemon grass | Lemon Melissa | Lemon thyme | Lovage | Marjoram | Mint | Oregano | Peppermint | Rucolla | Rosemary | Sage | Salicornia | Savory | Sorrel | Tarragon | Thyme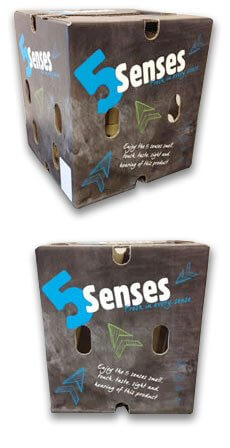 FRESH HERBS CONCEPTS.
As a specialist in fresh packaging, we are always developing inspiring fresh herbs packaging concepts.
Longer Shelf-Life Flowpack
Special is our 5 Senses flowpack. Besides the natural and authentic design, the foil also has a natural and authentic paper feel. This natural look and feel is specially developed for an attractive and distinguish consumer proposition. But most importantly, the 5 Senses flowpack gives the fresh herbs a longer shelflife of 3 days. If you prefer your own brand, we can develop your own pre-printed flowpack, exclusively for you.
Fresh Herb Mixtures
5 Senses has developed an assortment of unique fresh herb mixtures. Already pre-packed, ready to prepare your fresh tea, soup, salad or smoothie. For more information, please contact our specialist Raymond van der Burgh, Raymond@europeretailpacking.nl.